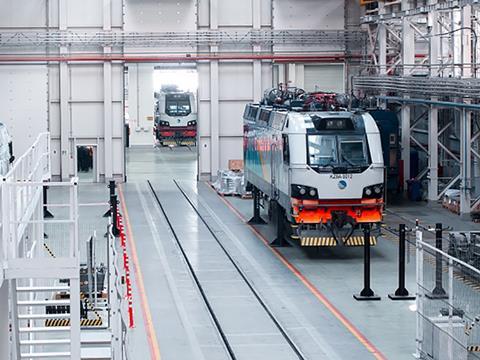 KAZAKHSTAN: Alstom announced on December 22 that it had signed an agreement to acquire from national railway KTZ its 25% stake in the EKZ electric locomotive production joint venture. Subject to regulatory approval, this would see Alstom hold 75% of the company, the remaining 25% owned by Transmashholding.
When EKZ was constituted in 2010, KTZ had taken a 50% stake in the joint venture, later selling 25% to Alstom in 2016. Under an order for 200 locomotives, assembly of the KZ8A freight design is now undertaken wholly in Kazakhstan, with full local assembly of 95 KZ4A passenger locomotives due to start at the beginning of 2018.
'By increasing once again Alstom's share in EKZ, we show our confidence in the attractiveness of Kazakhstan and we contribute to the development of new expertise and skills locally to address not only Kazakhstan's needs but also regional ones', said Didier Pfleger, Alstom Senior Vice-President for Middle East & Africa.
Under a separate memorandum of understanding signed last week in Astana by KTZ President Kanat Alpysbayev and Alstom Chairman & CEO Henri Poupart-Lafarge, the KEP joint venture of Alstom and SOP is to undertake resignalling work at 25 stations on the national network.