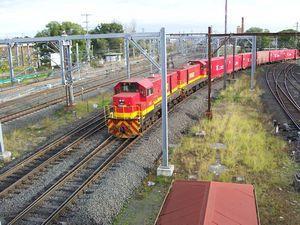 AUSTRALIA: Live testing of the Advanced Train Management System is set to begin shortly, following the signing of a contract between infrastructure manager Australian Rail Track Corp and Lockheed Martin Australia. The two-year trial is to be undertaken between Whyalla and Port Augusta in South Australia.
ATMA uses GPS data and 4G communications to locate and route trains in real time, without relying on trackside equipment. 'The system is custom–engineered technology and will transform the way freight rail infrastructure is managed and monitored across the country,' said Deputy Prime Minister and Minister for Infrastructure & Regional Development Warren Truss on October 29. 'ATMS will increase the capacity, safety and reliability of our national freight rail network and safely enable more trains to travel closer together.'
The national government has previously provided A$60·8m for development, and is providing a further A$50m for implementation.