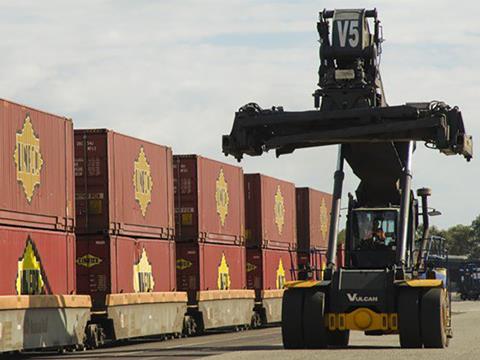 AUSTRALIA: Aurizon completed the sale of its Queensland Intermodal business to logistics group Linfox on January 31, with the first train under the new management leaving Brisbane for Mackay on February 1.
'The acquisition is the culmination of two decades of effort by Linfox to expand its rail network in far north Queensland and allow us to actively leverage our assets to better service our interstate customer base as well', said Linfox Logistics CEO Mark Mazurek. 'Today marks the doubling of Linfox's Australian intermodal capability and provides the business a platform for further volume and market share growth in the expanding Queensland market.'
Mazurek said the 'first focus' would be 'to deliver enhanced rail and road services to current and prospective customers and to identify ways to better meet and exceed their needs', with the acquisition 'just the beginning of the company's long-term investment in the region and overall rail infrastructure around the country.'
Aurizon announced its intention to withdraw from the intermodal market in August 2017, and ended its interstate operations at the end of that year. An agreement to transfer the residual Queensland Intermodal activities to a consortium of Linfox and Pacific National was blocked by the Australian Competition & Consumer Commission, then in October 2018 a revised agreement to sell the business to Linfox for A$7·3m was announced.
Aurizon said completion of the sale would provide certainty for the intermodal business's more than 300 customers, and secure continued employment for more than 300 people including train drivers and freight terminal operators. Around 120 Aurizon employees have moved to its Bulk business, and around 190 have transferred to Linfox.
Linfox has taken over existing contracts and a fleet of intermodal wagons, lorries and lifting equipment, and has secured leases and access to 12 freight terminals including Rockhampton, Mackay, Townsville, Cairns, Emerald and Longreach.
Aurizon's Bulk business is to provide rail haulage services between Brisbane and Cairns under a separate 10-year 'hook and pull' contract.