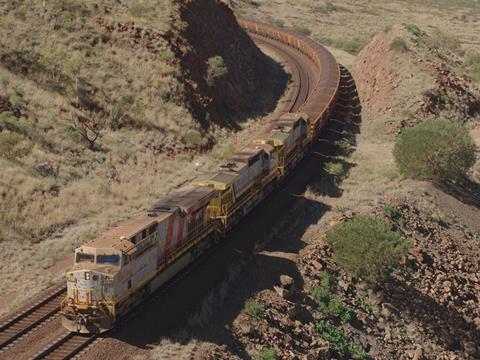 AUSTRALIA: Rio Tinto has announced the successful deployment of its AutoHaul technology for the autonomous operation of iron ore trains in the Pilbara region of Western Australia, creating what the mining company said was 'the world's largest robot and first automated heavy-haul, long-distance rail network'.
Deployment of the ATO over ETCS Level 2 to support Grade of Automation 4 unattended operation is the result of more than six years of development by Rio Tinto and technology supplier Ansaldo STS under the A$940m project.
'It's been a challenging journey to automate a rail network of this size and scale in a remote location like the Pilbara, but early results indicate significant potential to improve productivity, providing increased system flexibility and reducing bottlenecks', said Ivan Vella, Rio Tinto Iron Ore's Managing Director, Rail, Port & Core Services, on December 28.
The first autonomous loaded train ran in July, carrying 28 000 tonnes of ore 280 km between the Tom Price mine and the port of Cape Lambert. The number of autonomous journeys has since been steadily increased, with more than 1 million train-km operated autonomously by the end of 2018.
Rio Tinto operates about 200 locomotives on more than 1 700 track-km in the Pilbara, hauling ore from 16 mines to four port terminals. The average return distance is about 800 km, with an average cycle, including loading and unloading, taking about 40 h.
Each AutoHaul locomotive is fitted with an onboard module which sends automatic reports on its position, speed and direction of travel to the control centre located more than 1 500 km away in Perth, and the locomotives and all public crossings are also fitted with cameras allowing constant monitoring.
Rio Tinto said it would continue to refine its autonomous operations over the coming months to 'maximise value'. The company will 'work closely' with drivers, and does not expect to make any redundancies in 2019 as a result of the deployment of AutoHaul.