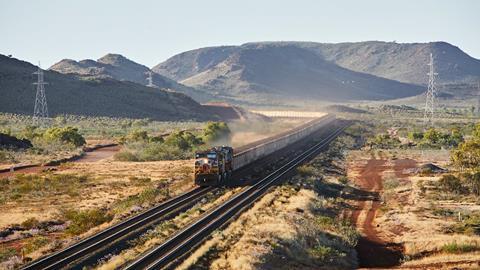 AUSTRALIA: An agreement to manufacture iron ore wagons in the Pilbara region has been announced by Rio Tinto and Gemco Rail, supported by supply partner Qiqihar Railway Rolling Stock and the government of Western Australia.
The mining company is expecting to spend a total of A$150m purchasing 100 locally built ore wagons over six years and maintaining bearings over 10 years.
Under the agreement announced on June 12, Gemco Rail will produce the first 40 of these wagons at its existing plant at Forrestfield in Perth for delivery from mid-2024. It will also establish a new factory in Karratha by the end of 2024 and transfer its Rio Tinto iron ore wagon manufacturing and bearing maintenance services there, while continuing to serve other customers from Forrestfield.
The new factory is expected to produce wagons at an average rate of 10 per year.
Rio Tinto Iron Ore Chief Executive Simon Trott explained that the company had 'taken our original scope to build iron ore cars in Western Australia and enhanced it to see the construction of ore cars in the same region as our operations'.
He said 'this will bring a new industry to the Pilbara, creating jobs and providing more opportunities for local and Indigenous businesses'.
Rio Tinto operates about 14 000 ore wagons across its Pilbara rail network, and orders an average of 10 new ones every year.