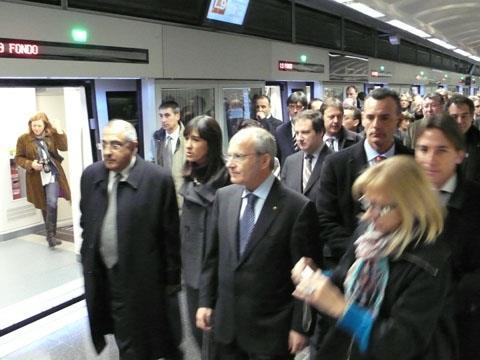 SPAIN: On December 13 José Montilla, President of the Generalitat de Catalunya, inaugurated the first five stations of metro Line 9 between Can Zam and Can Peixauet.

He was accompanied by the Minister of Land Planning & Public Works, Joaquím Nadal, the Mayor of Santa Coloma de Gramenet, Núria Parlón, Vice-President Jose-Lluís Carod-Rovira, Minister of the Interior, Joan Saura, and Mayor of Barcelona Jordi Hereu.

Following a tour of Can Zam station, the VIPs rode the first train to Can Peixauet. Speaking at the inauguration, Parlón described the arrival of the metro in Santa Coloma as the start of a new era for the municipality, whilst Montilla described the fully-automatic line as 'the best metro service in our country and one of the most advanced in Europe'.

Following the celebrations, Line 9 was opened to the public at 15.00. Official estimates suggest that 28 000 people had enjoyed a ride by the time it closed at 22.00. The 4 km section of Line 9 entered commercial service on December 14, with trains initially running at 6 min intervals between 06.00 and 22.00. Interchange with Line 1 is provided at Fondo.

Owned by Catalunya's rail infrastructure authority Ifercat, the line is operated by TMB from its new control centre at La Sagrera. A fleet of five-car Metropolis trains is being supplied by Alstom whilst a consortium of Siemens and Dimetronic is providing the CBTC signalling.

The next section of Line 9 between Gorg and Sagrera is expected to enter service in the second quarter of 2010. Once completed in 2014, the driverless line will be 47·8 km long with 52 stations.