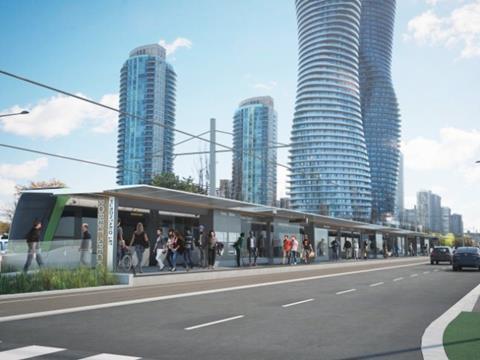 CANADA: The province of Ontario has announced plans to raise funds for construction of the planned Hurontario – Main light rail project in the Greater Toronto Hamilton Area.
The 23 km route would run southeast from Brampton, to the west of Toronto, to Mississauga and Port Credit on the shore of Lake Ontario. There would be 26 stops, including three in downtown Mississauga and two in downtown Brampton.
The government intends to sell a minority stake in energy company Hydro One through an initial public offering, as well as merge Hydro One Brampton with Enersource, PowerStream and Horizon Utilities. It also intends to expand the sale of beer to up to 450 more locations, which is expected to generate C$400m over four years.
The proceeds would go to the Trillium Trust investment fund, which would be used as part of the Moving Ontario Forward plan. This aims to provide C$31·5bn over 10 years for investments in priority infrastructure projects across the province, with C$16bn allocated to transport. These measures are expected to generate a total of C$4bn.
'The Hurontario LRT will be transformative and move Mississauga forward, allowing us to grow our economy, create jobs, and develop in a way that will keep Mississauga competitive for generations to come', said Mayor of Mississauga Bonnie Crombie
Metrolinx President Bruce McCuaig added: 'Moving forward with this project represents a major step towards transformational transit improvements in Peel Region — part of a long-term vision for an integrated, sustainable transit network connecting the GTHA'.