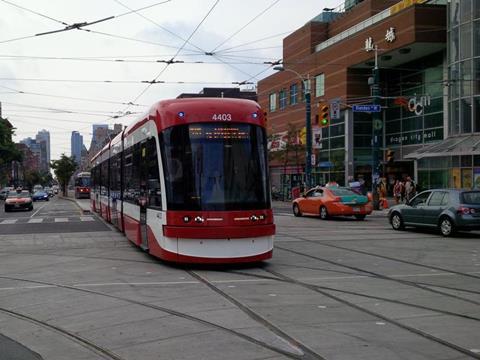 CANADA: Toronto's first Bombardier Flexity Outlook trams entered service on the 510 Spadina route on August 31. The 100% low-floor cars are part of the first new generation of streetcar in the city for 30 years.
The air-conditioned five-section vehicles are 30·2 m long, 2 540 mm wide and 3·84 m high with capacity for 251 passengers, including 70 seated. Maximum speed is 70 km/h. They are equipped with trolley poles to collect power from the 600 V supply on the city's 1 495 mm gauge network.
Final assembly took place at Bombardier's Thunder Bay plant in Ontario. They underwent testing in a climate chamber in Ottawa before dynamic tests in Toronto.
Toronto Transit Commission ordered 204 trams in 2009, funded by the city, province and the federal government. Deliveries are due to take place until 2019, with the vehicles being deployed on all 11 routes once modifications to infrastructure have been made. A depot is being built for the new fleet at the corner of Leslie Street and Lake Shore Boulevard.
In 2010 TTC exercised an option for a further 182 vehicles for the four light rail lines to be built under Transit City expansion plans.