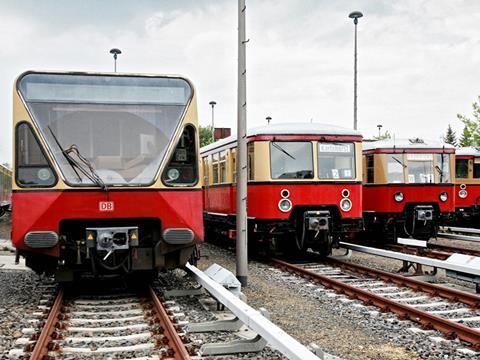 GERMANY: Berlin's Urban Development & Environment Senator Andreas Geisel announced on December 8 that following a competitive tendering process, DB subsidiary S-Bahn Berlin GmbH is to be awarded a further contract to operate the Berlin S-Bahn's 'Ring & Branches' service group.
The contract due to be signed on December 21 would run from the start of 2021 until the end of 2035. Covering 9·7 million train-km per year, this service group represents almost one-third of the capital's S-Bahn network.
In July 2014 the Länder of Berlin and Brandenburg directly awarded DB an 'interim' contract running from the end of its current contract in December 2017 until August 2023, to allow more time for tendering. Later that year the incumbent was left as the sole candidate following the withdrawal of all other bidders.
Geisel also said that a new fleet would be ordered before the end of the year. A consortium of Siemens and Stadler Pankow, formed in 2012, has been chosen to supply 191 two-car EMUs, and the Grünau workshop is to be refurbished to accommodate the new trains. The existing fleet must be replaced by 2023, as it will be incompatible with the new signalling that is to be installed on the Ring.
The trains will have capacity for 20% more passengers than the existing rolling stock. They will be PRM-accessible, with multi-function spaces, audio-visual real-time passenger information, CCTV and air-conditioning.
The timetable for putting the new trains into passenger service is expected to be:
January 1 2021: S47 Spindlersfeld – Tempelhof / Südkreuz (– Bundesplatz);
July 1 2022: S46 Königs Wusterhausen – Hauptbahnhof;
October 14 2022: S8 (Wildau –) Grünau – Hohen Neuendorf;
April 14 and October 13 2023: S41/S42 (Ringbahn).