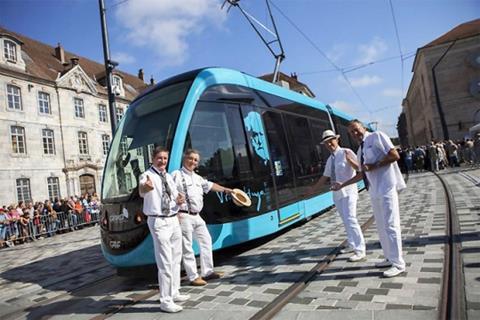 FRANCE: A weekend of 'modest celebrations' marked the inauguration of Besançon's 14·5 km tram line on August 30-31, with local residents attending wearing turquoise-blue to match the trams' colour scheme.
The tramway has been explicitly developed as a low-cost project by the Grand Besançon municipality, which had hoped to reduce construction costs by up to a third compared to recent light rail schemes in other French cities. It serves 31 stops from Marnières in the east of the city to Hauts-du-Chazal in the southwest with a short branch to Besançon-Viotte main line station.
A consortium of STD, Sacer, Roger Martin, Colas Rail and Alstom undertook civil works on the 7 km western section under a €43m contract awarded in March 2012. The eastern 7 km section was built under a €53m contract by the Eurovia consortium, which includes Bonnefoy, Eurovia Travaux Ferroviairies, Campenon Bernard and Coteb Codiel.
Colas Rail supplied the overhead electrification equipment, while seven substations to supply traction current at 750 V DC were installed by Spie Est. Signalling was supplied by Vossloh Cogifer.
The 19 Urbos 24 m long trams were assembled at CAF's CFD Bagnères plant in Bagnères-de-Bigorre. Services are operated by municipal transport company Ginko.
A detailed account of the Besançon light rail project appeared in the April 2011 issue of Railway Gazette International, available to subscribers in our digital archive.