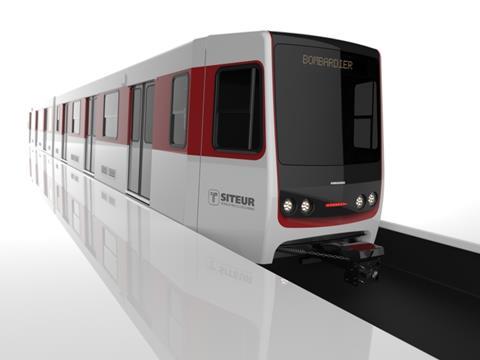 MEXICO: The Jalisco state government has selected Bombardier as preferred bidder for a contract to supply 12 two-car trainsets for Line 1 of the Guadalajara light rail system operated by SITEUR. According to the state government, 13 companies responded to the call for tenders where the winning bid of 752⋅2m pesos represents a saving of 24% on the expected cost.
With deliveries due to commence in 2017, the new trains are expected to increase peak capacity by 50% on Line 1, compatible with the existing fleet and enabling services to carry up to 900 passengers. The 29·6 m long steel-bodied TEG-15 sets are expected to run in pairs, and will have a maximum speed of 80 km/h. They are to be built at Bombardier's plant in Ciudad Sahagún.
Following a site visit last month, SITEUR Director General Rodolfo Guadalajara Gutiérrez reported that infrastructure work to upgrade and extend Line 1 was 52% complete.
Platform extensions had been completed at five stations on the central underground section of Line 1, at Washington, Mexicaltzingo, Juárez, El Refugio and Mezquitán, with work nearing completion at Ávila Camacho and División del Norte. The tunnel that will extend Line 1 from Periférico Norte to Auditorio was 89% complete, and work at Auditorio including new stabling facilities 86% complete.