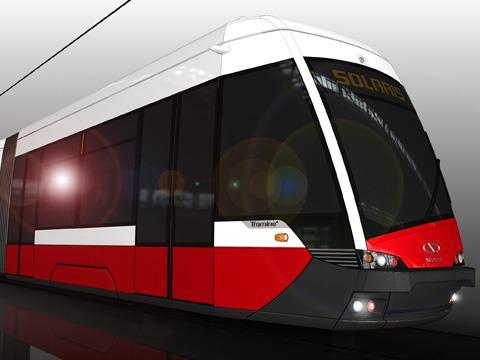 GERMANY: Solaris Bus & Coach has been awarded a contract to supply 15 Tramino low-floor trams to Braunschweig, where they will replace 30-year old cars which do not meet modern accessibility requirements.
The customised trams for Braunschweiger Verkehrs AG will be unidirectional vehicles around 36 m long, with each of the four sections riding on a 1 100 mm gauge bogie. The trams will have six twin-leaf doors, 77 seats and a total capacity of 201 passengers.
Deliveries are scheduled to run from May to December 2014.
The Land of Niedersachsen is meeting half the €33·1m cost of the contract announced on May 30, which includes an option for a further three vehicles. Six companies had initially expressed interest in bidding, and four submitted tenders.
'The tram's attractive design will enhance the cityscape and we are sure that passengers in Braunschweig will love the excellent comfort of the Tramino', said Solaris CEO Solange Olszewska.
The Tramino family was launched in 2009, and 45 vehicles are now in service in Poznan. The Braunschweig contract is the Polish firm's second tram order from Germany, following a July 2011 deal to supply five trams to Jena, where deliveries are due to take place in 2013.