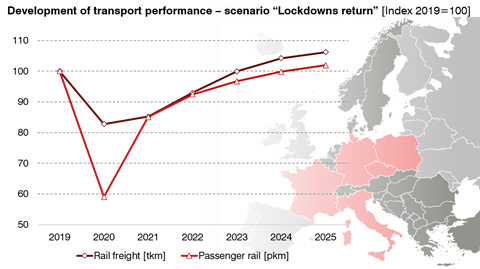 EUROPE: The coronavirus pandemic is likely to have a wide-ranging impact on train operators, vehicle owners and the rolling stock supply industry, according to a study undertaken by German management consultancy SCI Verkehr.
Entitled 'Impact of the Covid-19 Crisis on the railway sector in Europe', the study is based on detailed analyses of the rail markets in Germany, France, Italy, Poland and the Czech Republic, looking at both the passenger and freight sectors. In predicting possible outcomes, the work considers three possible future scenarios: 'lockdowns return', 'disrupted markets' and 'rapid recovery'.
Describing the possible re-introduction of lockdown measures in the event of a virus resurgence in autumn as a 'most likely' scenario, SCI Verkehr estimates that this would lead to a 40% slump in passenger traffic for 2020 as a whole, while freight transport across continental Europe would decline by nearly 20%. With this scenario, the study suggests that business would not recover to pre-crisis levels until 2023 or 2024.
The consultants envisage that the severe revenue losses for passenger operators would probably be partially compensated by governments. Whilst freight operators 'are initially less affected', they would also come under pressure because of widespread low margins and price competition within a depressed transport sector.
The net result of these trends would be a significant reduction in the funding available for investment, which in turn would have a negative impact on vehicle procurement volumes, the study concludes.