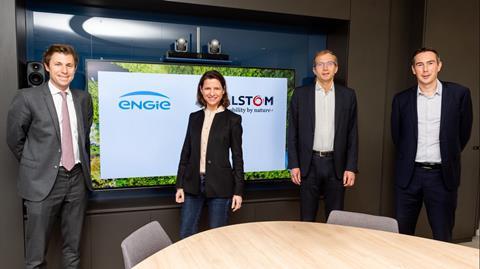 EUROPE: Alstom and Engie have signed a co-operation agreement to facilitate the deployment of high-performance fuel cells to power electric freight locomotives on non-electrified branch lines and sidings.
Alstom is developing the fuel cell technology, and Engie is to produce and distribute 'renewable' hydrogen, having previously supplied fuel for trials with Alstom's prototype iLint multiple-unit in the Netherlands.
Alstom is aiming to develop a complete ecosystem for hydrogen trains. It acquired fuel cell manufacturer Helion Hydrogen Power in 2021 and invested €6m in the company's factory in Aix-en-Provence. It has also signed partnership agreements with companies including compressor manufacturer Liebherr Aerospace & Transportation, the Hynamics hydrogen subsidiary of French energy group EDF and hydrogen storage tank maker Plastic Omnium.
'Our ambition is to accelerate the adoption of hydrogen power in the rail industry by developing innovative solutions that help green heavy-duty mobility operations like rail freight', said Vice-President Corporate Strategy Raphaël Bernardelli on April 6.
'In order to help drive the evolution of the hydrogen rail sector we need to gather stakeholders, and this is why we have decided to partner with Engie.'