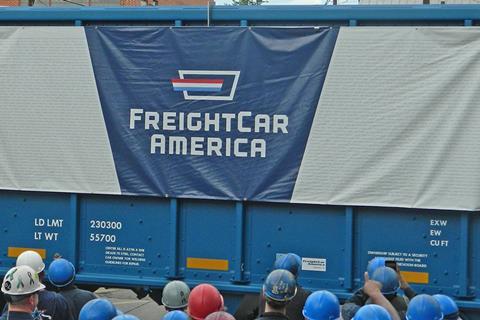 NORTH AMERICA: FreightCar America has signed a letter of intent to acquire joint venture partner Fabricaciones y Servicios de México's 50% stake in the new wagon manufacturing plant at Castaños in Mexico, and will consolidate all of its production there by January 2021. This will mean the permanent closure of its Shoals plant in Cherokee, Alabama, by the end of Q1 2021.
Announcing the 'additional steps in its manufacturing and operational realignment' on September 10, FreightCar America said 'aggressive footprint consolidation' would provide it with a 'much more flexible' business structure, allowing it to 'realign costs to the near-term demand environment'.
It expects to save more than US$20m/year in fixed costs, and lower its production breakeven point from 6 000 to fewer than 2 000 wagons/year.
The Mexican plant recently started production of its first order, and is working to achieve AAR certification this autumn. A second production line is expected to be operational by the end of the year, with additional lines to be added as market conditions improve. Each production line will have a capacity of around 1 000 wagons/year.
President & CEO Jim Meyer called the closure of the US plant a 'difficult, but necessary' decision.
'As part of our back-to-basics multi-year plan, we have taken significant cost out of our business, while making significant investments in our products, people and processes', he said. 'The efforts of our Shoals team helped us to reduce our breakeven production levels by roughly one-third since the start of the plan. However, the ongoing impact of the industry downturn has been further intensified by the Covid-19 pandemic and required an additional and significant response to both protect our franchise and reposition the business for immediate success post-downturn.'