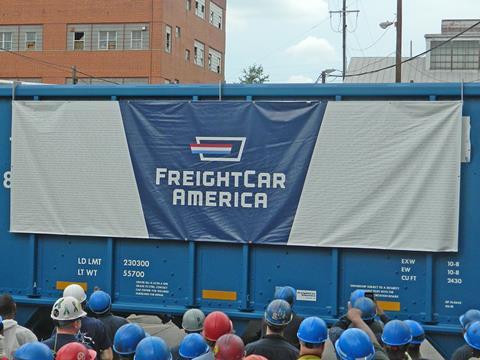 MEXICO: US wagon manufacturer FreightCar America and heavy fabrication company Fabricaciones y Servicios de México have announced a joint venture to produce wagons in Castaños.
FreightCar America is committing US$25m of assets and cash, and will consolidate and control the joint venture; profits and losses will be shared 50:50.
'We are excited about the growth that this represents for our company', said Fasemex co-owner Jesus Gil on September 19. 'We have been working towards this moment for well over a year now and are optimistic about our future together.'
FreightCar America said it would have 'substantially repositioned its manufacturing footprint' once the plant was operational in mid-2020.
'Getting ourselves repositioned and on the right cost structure are core to our "Back to Basics" strategy', said President & CEO Jim Meyer. 'We are making great progress in our material and fixed cost reduction efforts, and now, with the addition of this partnership in Castaños, we will become even more competitive in certain railcar types that weren't economically feasible previously.'
The company announced in July that it would close its factory at Roanoke, Virginia, by mid-November, with work transferring to its Shoals factory in Alabama. Announcing the Mexican joint venture, Meyer said FreightCar America was 'deeply committed to Shoals as our primary manufacturing platform', and would continue with incremental investments at the site.
FreightCar America also has facilities at Grand Island in Nebraska, Johnstown in Pennsylvania and Shanghai in China.