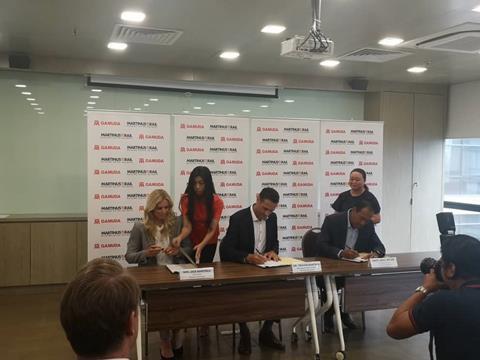 AUSTRALIA: Malaysian civil engineering group Gamuda Bhd has agreed to purchase a 50% stake in Australian contractor Martinus Rail Pty Ltd, citing potential opportunities in the country's pipeline of current and future railway projects.
Under the partnership agreement announced on October 2, Gamuda Engineering Australia and Martinus Rail expect to tender jointly for future projects. The two companies said they were expecting to submit tenders for more than A$20bn of work 'over the next year or so'. Australia's infrastructure development pipeline is currently estimated at A$300bn, and rail infrastructure spending is forecast to grow by around 14% per year until 2023.
Described as the largest independent specialist rail constructor in Australia, Martinus Rail has worked on major projects in New South Wales, Victoria and Queensland with a total value of more than A$200m. Gamuda already has considerable experience in the Malaysian rail sector; it is currently working on the 53 km MRT Line 2 in Kuala Lumpur, having previously delivered MRT Line 1 and more than 300 km of double-tracking and electrification for KTMB.
'This acquisition provides a springboard for Gamuda to contribute towards infrastructure development in Australia, especially in the railway industry', said Gamuda Engineering managing director Ubull Din Om. 'This is similar to what we have successfully achieved in other nation-building projects which have sustainably benefited the local supply chain in the economic and social segments.'
Adding that the two companies had complementary strengths in infrastructure construction, Martinus Rail Group Managing Director Treaven Martinus said 'we are excited by the prospect of bringing innovation and technology from a world-class rail infrastructure company like Gamuda to the Australian rail industry, and combining it with our extensive local experience to become Australia's leading rail contractor.'