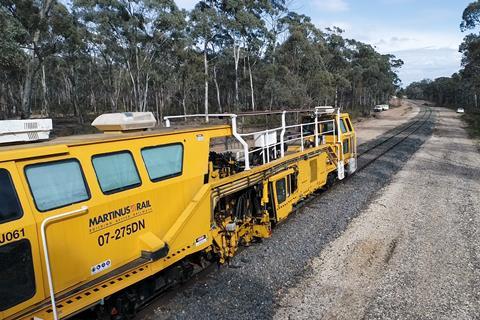 AUSTRALIA: Indian mining group Adani has awarded an A$100m contract to Martinus Rail for tracklaying on the 200 km rail link to its future Carmichael mine in Queensland's Galilee Basin.
The 1 067 mm gauge single-track line will connect the A$2bn mine to Aurizon's existing Central Queensland Coal Network, over which Adani is seeking track access rights for its coal trains to reach the group's export facilities at Abbot Point.
According to Adani Mining Chief Executive Lucas Dow, the company has now awarded contracts totalling more than A$450m for the mine and rail projects, including the provision of mining services, earthworks for the railway, and the tracklaying package.
Malaysian civil engineering group Gamuda recently acquired a 50% stake in Martinus Rail, with a view to expanding its presence in the Australian market. The NSW-based company has established a local office at the Rockhampton Business Centre, and Managing Director Treaven Martinus said it would be looking to partner with Queensland firms, as it was 'keen to get started' on the Carmichael project.
Noting that several of Adani's contractors were based in Rockhampton, Dow said the initial rail construction camp would be based in Collinsville, while other earthworks and civil works would be supplied from Townsville and telecommunications from Mackay.
Despite protests from environmental activists, Federal Minister for Resources & Northern Australia Matt Canavan said he had 'spent years fighting for the Adani project because it means delivering jobs and economic activity for regional Queensland'.