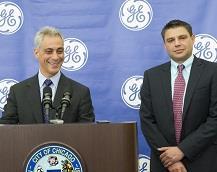 USA: GE Transportation announced on May 30 that it had selected Chicago as the location for its global headquarters. The company's plant in Erie, Pennsylvania, will remain the headquarters of its locomotive business, and it will still be the 'key manufacturing and engineering site'.
'We have transformed GE Transportation from a North American rail company to a truly global transportation business', said President & CEO Lorenzo Simonelli. 'Chicago allows us to more efficiently reach and serve customers around the world in the rail, mining and marine industries'.
GE is evaluating potential office locations for the headquarters, which it expects to have a staff of around 150 by 2014. This will include 50 support and services staff relocated from Erie.
'Illinois is one of the most important rail and transportation hubs in the nation,' said state Governor Pat Quinn. 'By choosing Chicago for its global headquarters, GE Transportation will be positioned to compete fiercely in the US and all over the world'.