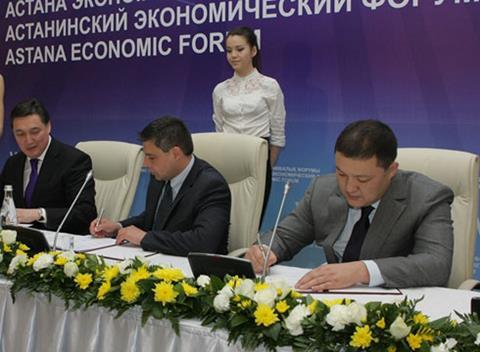 KAZAKHSTAN: A memorandum of understanding setting out plans to establish a US$90m diesel engine manufacturing plant in Astana was signed by GE Transportation, TransmashDiesel and national railway KTZ on May 23.
The parties plan to form a joint venture which would produce around 400 Evolution Series engines a year for rail, maritime and stationary power customers in the Commonwealth of Independent States and 1 520 mm regions. The joint venture would also offer servicing and spares.
The plant is scheduled to be operational by the end of 2013, with the first engines coming off the assembly lines by early 2014. GE Transportation anticipates additional production volume at its Grove City plant in the USA, which will provide engine kits for the new facility.
KTZ's JSC Lokomotiv Kurastyru Zauyty subsidiary already operates a locomotive assembly facility in Astana, which has capacity to roll out around 100 GE TE33A Evolution Series locomotives a year. KTZ plans to acquire 70 GE locomotives this year, as well as 64 shunting locomotives.