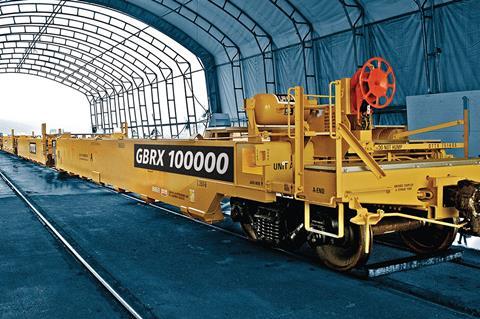 USA: The Greenbrier Companies has suspended wagon manufacturing at its Gunderson site in Portland, Oregon, owing to the economic impacts of Covid-19.
The announcement on April 16 came a week after Greenbrier Gunderson ended production on its double-stack intermodal line, which has run nearly continuously for 25 years. The company said there was a surplus of intermodal wagons in North America and declining traffic, accelerated by the effects of Covid-19.
Its food-grade refrigerated and insulated van production line will close when current work concludes in July, but 'may restart after the current crisis subsides'.
Around 200 production and office jobs will go. Affected staff are entitled to receive severance packages based on years of service, which are co-ordinated with state and federal benefits. Greenbrier will provide immediate cash to until payments are available from government programmes where access has been delayed owing to 'challenges with registration and delivery of payments'.
The company said it was responding to the economic downturn by increasing its liquidity and cash flow 'to benefit the entire enterprise, while keeping its workforce safe through rigorous health protocols in its offices and factories'.
During its current financial year Greenbrier has reduced its global workforce by 3 700 people, more than 20% of its total.
'Going forward, we intend to identify opportunities to profitably build railcar products at Greenbrier Gunderson', said Chairman & CEO William A Furman. 'Meanwhile, we plan to keep and deploy some of our most experienced team members to other locations in our network, where different kinds of railcars are built. Current conditions require us to simplify and streamline our organisation to increase total liquidity from $620m at the end of the fiscal second quarter to $1bn by the end of fiscal 2020.'
Looking ahead, Furman said rail transport was 'essential for supply chains in light of the Covid-19 crisis, providing smoother and safer border crossings and reducing the risk of viral transmission by human contact.' It is more environmentally efficient than other modes, and 'will play an important part in any economic recovery, both near-term and longer-term, when greater stability and predictability has resumed.'