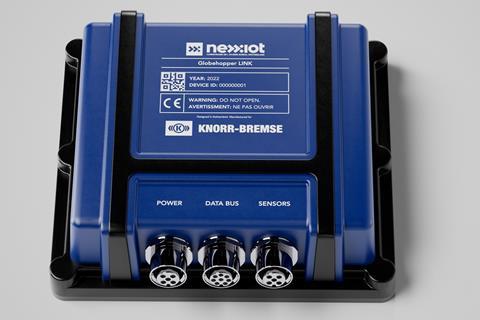 SWITZERLAND: Knorr-Bremse has announced a €60m investment to become the largest shareholder in Nexxiot, which specialises in fitting wagons and containers with 'internet of trains' data connectivity technology.
Investment firm QVIDTVM, led by Burak Alici, and existing shareholders have also increased their investment.
Knorr-Bremse said the acquisition of the strategic minority stake in Nexxiot would enable it to use the Swiss company's data-driven business models including subscription-based services to support increased vehicle availability, optimised lifecycle costs and greater efficiency.
In the first phase of the partnership, Knorr-Bremse will offer to retrofit Nexxiot's data-gathering sensor technology to existing rolling stock braking, door, HVAC and other subsystems, and connect them to Nexxiot's cloud-based ecosystem.
During the second phase Knorr-Bremse would natively integrate its original equipment into the digital ecosystem.
'We're using digitalisation to leverage our already strong position in safety- and mission-critical rail vehicle systems, and to generate further growth and strong profitability', said Dr Jürgen Wilder, Knorr-Bremse executive board member responsible for the Rail Vehicle Systems division, on May 31. 'By combining our systems technology with Nexxiot's digital ecosystem, we're creating a win-win scenario that will boost vehicle availability and lower the total cost of fleet ownership by leveraging a new generation of data-based services.'
Nexxiot CEO Stefan Kalmund said 'together, we aim to accelerate the digitalisation of key areas like rail freight and automation services. At the same time, we'll also be able to speed up our own expansion in the rail industry and continue our strong growth.'