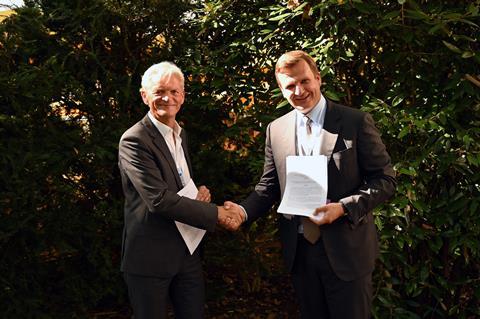 A memorandum of understanding has been signed for Plasser & Theurer to test its track inspection vehicles and technologies on ÖBB Infra's tracks, in return for providing the Austrian infrastructure manager with data about the condition of its assets.
SilverRail Technologies Inc has exercised an option to acquire Swedish national operator SJ's remaining 25% stake in SilverRail Technologies AB, making it the sole owner of the ticket retailing software business.
Wabtec Corp's Vapor Stone Rail Systems has opened its Arizona Ave plant in Plattsburgh. 'We are proud to be opening this new plant, which will allow us to expand our capabilities as a leading provider of door systems, HVAC and converters to the North American rail market and bring significant new job opportunities to the local community,' said Lilian Leroux, President of Wabtec Transit. 'Along with an improved working environment for our employees, this new state-of-the-art facility will significantly help us reduce our environmental impact'.
Wagon leasing and repair company The Andersons has completed the roll out of RailcarRx's Repair Management System software across its North American sites, including 26 repair shops. The software supports contract and running repair activities, and is intended to help the company optimise its ability to adapt to evolving business needs. 'This has been a great opportunity for RailcarRx to showcase our scalability for large network shops', said Josh Lippy, Director of Operations at RailcarRx.
Dr Alan Calegari has been appointed as director and Chairman of MerMec Inc, the US subsidiary of the MerMec group.
Canadian transport planning software company GIRO has opened a European office in Lyon. 'A major consideration for our teams is adapting to our clients' changing environment', said Simon Crespy, Director of Business Development and head of the new office. 'By being closer to our clients, we will be even more responsive to their needs and support them better in their projects.'