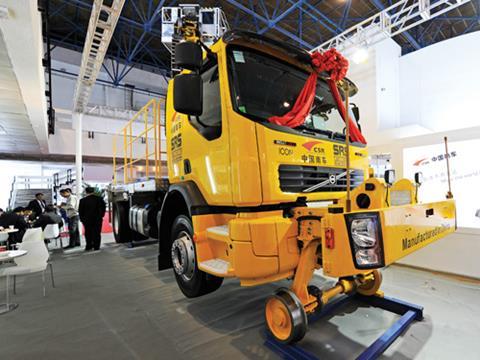 CHINA: CSR Sifang and SRS Rail Systems International has launched a range of road-rail vehicles.
The UK and Chinese companies have co-operated to develop standardised vehicles to which a range of units can be attached, starting with cranes or aerial work platforms.
With a gross weight of 18 or 25 tonnes, the vehicles are based on a Volvo chassis, engine, powertrain and cab, but with hydraulic running gear for rail use. A retractable steel-wheeled powered bogie allows the vehicle to move on and off the track in about 3 min at a paved access point.
A hydrostatic power take-off provides power to the rail drive and ancillary equipment. Designed to meet European EN280:2001 and EN15746 standards, the vehicles have a maximum speed on rail of 80 km/h; they can be operated from the cab or the work platform.
CSR has been producing a growing portfolio of road-rail vehicles for various customers over many years, including tankers, cranes, maintenance and inspection vehicles, shunting units, and even police cars.
The two companies hope to tap international markets thanks to the low cost of production in China, with the standard Volvo chassis offering an attractive option for Europe and North America, where servicing is easily available. Different chassis could also be offered as alternative options.