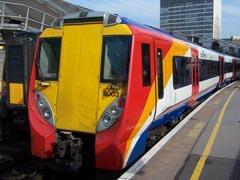 UK: South West Trains is installing energy meters on some of its electric multiple-units under a programme which aims to reduce annual energy consumption by up to 10%.
The Train Energy Management System supplied by Italian firm FAR Systems is being fitted to 20 Class 444, 450, 455 and 458 EMUs used on 750 V DC third-rail electrified commuter routes south of London. Five units with TEMS are in service on the London Waterloo - Reading line, the operator said on February 21, with 15 more to be fitted by May.
The meters will enable a route-specific analysis of energy usage, allowing drivers to be advised on the optimal driving technique to reduce consumption. SWT said onboard amenities and journey times would not be affected.
SWT has a five-year carbon reduction plan, which includes the introduction of regenerative braking. It is also using light-sensor control systems from Open Technology to adjust station lighting to make the most use of natural light.
Half of SWT's Alstom Class 458 fleet is now using regenerative braking, with the rest to be equipped by summer. Trials are being undertaken with an initial six Siemens Desiro Class 450 EMUs before a year-long roll-out across the class is launched in May, and a development programme is underway to equip the Class 444 Desiro fleet.