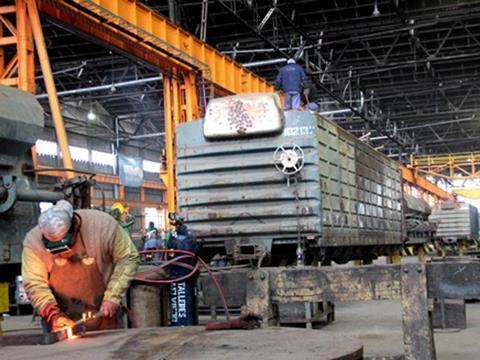 ARGENTINA: Transmashholding of Russia is to spend US$3m to refurbish and reopen the Mechita rolling stock workshops in the province of Buenos Aires, under the terms of an agreement signed on December 20 by Franco Comparato, representing its local subsidiary TMH Argentina, and Trenes Argentinos Infraestructura President Guillermo Fiad.
The workshops have been disused since 2011. TMH Argentina is to lease the site for a period of three years, as well as the adjacent yard at Mecha station on the Sarmiento network.
'Transmashholding has taken the decision to actively respond to the new business climate reigning in Argentina and to the major railway modernisation plan launched by the present government', said Transmashholding Vice-President, International Business, Oleg Kruglyakov.
'Our objective is to create an industrial cluster in this country, with state of the art facilities for the repair, refurbishment and construction of rolling stock, and the creation of plants to manufacture components', he added. 'We are going to invest US$200m and create 500 direct jobs.'