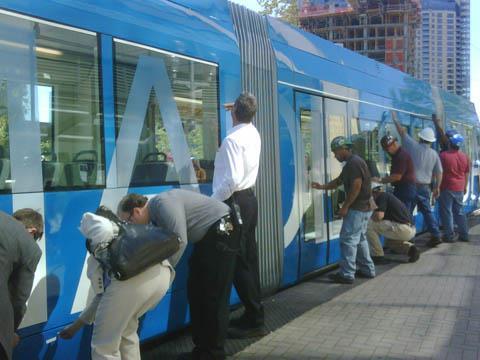 USA: Secretary of Transportation Ray LaHood was in Portland on July 1 for the formal unveiling of United Streetcar's prototype 10 T3 tram. A subsidiary of commercial fabricator and defence contractor Oregon Iron Works Inc, United Streetcar has developed the light rail vehicle to be compliant with the 'Buy America' requirement for 60% domestic content in cars bought using federal funding.
The 10 T3 was developed under a technology transfer agreement with Skoda, and is a localised version of the long- established Czech tram manufacturer's 10T cars, seven of which are in service with Portland Streetcar.
United Streetcar is finalising a contact to supply six 10 T3 trams to Portland, which LaHood said will be 'the first streetcars to be manufactured in America in nearly 60 years'. In May the city of Tucson selected Oregon Iron Works to supply similar vehicles for its Modern Streetcar Project, subject to receing the go-ahead from the Federal Transit Administration.
Read about the United Streetcar light rail vehicle in detail in the August issue of Railway Gazette International. Subscribe today.