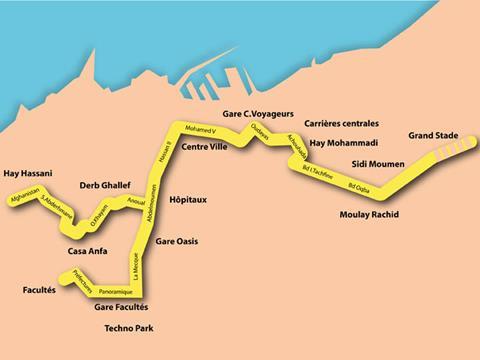 MOROCCO: Casablanca tram development company Casa Transports has appointed a consortium of Systra and Moroccan firm CID Engineering & Development Consultants as project manager for the city's light rail scheme.
Systra drew up preliminary designs in 2008. As consortium leader it will now be responsible for management of the 6·4bn dirham project, including detailed design work, organising the tendering and supervising construction.
The 29 km Y-shaped first phase will run from Grand Stade to Hay Hassani and Facultés, with 50 stops and 38 trams. Traffic and utility diversion began last month, in advance of construction works which are due to start in the second half of this year. The opening is planned for December 12 2012.
Longer term plans include four lines totalling 76 km.
Casablanca Transports SA was founded in 2008 specifically to own and manage the tramway. Its shareholders are the Moroccan state, the Greater Casablanca Region, local authorities, Hassan II Fund for Economic & Social Development, as well as the State Pension Fund, national railway ONCFM, and Banque Centrale Populaire.