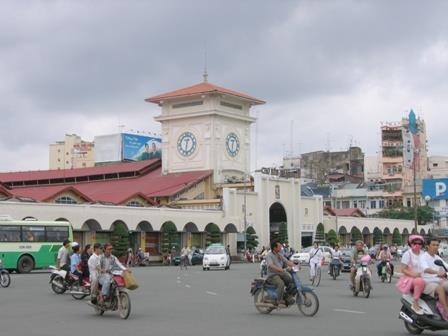 VIETNAM: Deputy Prime Minister Hoang Trung Hai attended a ceremony on August 24 at which the Ho Chi Minh City People's Committee formally marked the start of work on metro Line 2. Opening is scheduled for 2016.

The first phase of Line 2 will be 11·2 km long, linking Tham Luong in the northwestern District 12 to Ben Thanh in the central District 1, following the Duong Truong Chinh, Duong Cash Mang Thang Tam, Pham Hong Thai and Dai Lo Ham Nghi roads. There will be a 1 km spur to the depot at Tham Luong, and the line will have one elevated station at Tham Luong and 10 underground stations. It will initially require 12 three-car trains, a study by MVA recommending 750 V DC third rail electrification.

A planned second phase would extend Line 2 northwest from Tham Luong to An Suong and east from Ben Thanh, under the Saigon River to Thu Thiem New Urban Area in District 2.

The cost of Phase 1 is estimated at 23 691bn dong, which the city expects to secure through development loans and the state budget. Asian Development Bank is expected to approve a US$540m financing facility in November, the German government announced plans to provide €86m in 2008 and EIB has allocated up to €150m.

Hoang Ngoc Tuan of project promoter HCMC Management Authority for Urban Railways told VietNamNet that the city is 'prudently calculating the budget' for Line 2, 'having gained experiences relating to the swelling investment of the first metro line', the 19·7 km Ben Thanh – Suoi Tien line under construction for opening in 2015.

The metro forms part of a Transport Master Plan which aims to increase public transport modal share in the city from 5% to more than 40%. According to ADB the city's population is expected to grow from 9 million to 13·8 million by 2025, and road infrastructure is already reaching saturation.