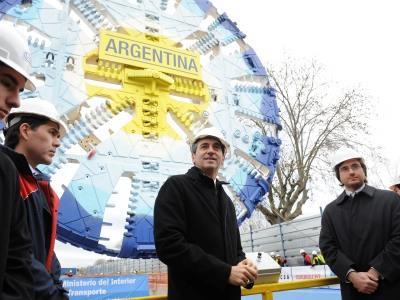 ARGENTINA: What Minister of the Interior & Transport Florencio Randazzo described as 'the most important railway project of the last 100 years' was officially launched in Buenos Aires on July 2.
Under plans announced in 2006, a 33 km tunnel is to be bored between Moreno and Caballito in order to replace the surface alignment of the Sarmiento commuter route. The minister was on hand as the cutter head for the TBM 'Argentina' was lowered into the launch pit ready to start the first drive from Haedo to Caballito.
Randazzo said the first stage costing 11·5bn pesos would bring many benefits, notably the elimination of level crossings which would 'avoid many accidents and much loss of life'. He added that the new underground alignment would enable the service frequency to be increased to every 3 min, increasing capacity from 100 million to 280 million passenger-journeys a year.
'This is a first world project that will extend to a total of 33 km and 13 stations', said Randazzo. 'It is important to emphasise that we will be taking forward this project without interrupting the existing service on the Sarmiento line'.