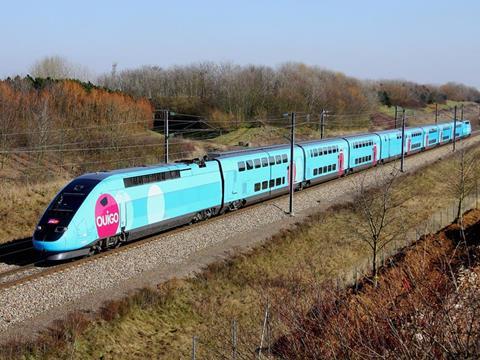 FRANCE: The European timetable change on December 9 marks a further expansion of SNCF's low-cost high speed operation Ouigo.
Routes to be added to the network include three daily return services between Paris-Lyon and Marseille, and three between Lille-Flandres and Marseille. When Ouigo was launched in April 2013, it operated between Marne-la-Vallée Chessy station on the eastern outskirts of Paris and Marseille and Montpellier. Subsequent expansion of the proposition in 2016-17 saw Ouigo start to serve the principal Paris termini including Montparnasse and Est as well as more out-of-town stations including Massy-TGV.
This timetable change brings Ouigo to Paris-Lyon station for the first time, and forms part of SNCF's objective to have 25% of its high speed traffic carried on low-cost services by 2020. Ouigo trains must be pre-booked, have restrictions on luggage allowance and no first class or catering. In return, very low fares are offered, including Lille – Marseille return from €16.
However, SNCF's adoption of a business model pioneered in low-cost aviation has raised concerns about a potential loss of network benefits. Mark Smith, founder of the international rail travel website The Man in Seat 61, commented on social media that SNCF was now starting to replace conventional TGVs with the low-cost services. Because Ouigo is run as a standalone business, it does not accept through bookings nor would compensation or rebooking under the Railteam agreement be offered if connections into a Ouigo train are missed.
Describing the 2019 timetable as 'the worst in France in a decade', Smith argued that connections between Eurostar and TGV services at Lille-Europe would be especially impacted. He suggested that just one daily London – Lille – Marseille connection would now be possible without using Ouigo, compared to four prior to the timetable change. The first and last daily TGVs between Paris and Nice are now operated by Ouigo, with longer journey times, Smith added.