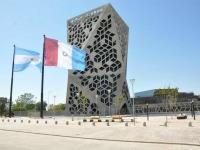 ARGENTINA: Revised proposals for a metro network in the city of Córdoba have been submitted to the federal transport ministry for approval. Developed by China Railway International, the project envisages construction of three routes totalling 32∙9 km serving 26 stations. Expected to take seven years to build, the network would be financed by a US$1 8bn loan from China over 15 years.
The 10∙7 km Line A with 11 stations would run from Colón Avenue in the west to Bajada de Piedra. Interchange would be provided at Maipú with the proposed 6∙5 km north-south Line B, which would run from Alta Córdoba near the Belgrano Railway station to Rontonda las Flores, serving eight stations. Shortest of the three routes, the 5∙6 km Line C with seven stations would also run east-west from Fuerza Aérea Avenue to Sabattini Avenue, paralleling Line A but further south.

The project is being taken forward under the framework agreement between President Cristina Fernández and the Chinese government announced in July 2010. Earlier plans for a 15∙8 km metro costing US$1∙1bn had been submitted in 2008 by a consortium of Iecsa, Ghello and Alstom.