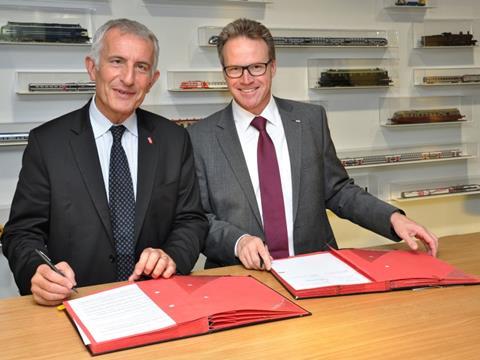 EUROPE: SBB CEO Andreas Meyer and SNCF President Guillaume Pepy signed a letter of intent on October 30 setting out the next steps for the creation of a cross-border RER network centred on Genève. From December 2017 the 230 route-km RER Franco-Valdo-Genevois would serve a total of 45 stations, connecting Evian, Saint-Gervais, Annecy and Bellegarde in France with Genève, Coppet and Lausanne in Switzerland.
Timetables, ticketing and connections with French and Swiss networks are to be developed by a new company that SBB and SNCF have agreed to establish by the end of 2014. SBB would have the majority stake in this joint venture, which is to be based in Genève.
Rolling stock and the overall structure of the RER FVG network would be determined by the funding authorities, which include the Rhône-Alpes region in France and the cantons of Genève and Vaud as well as the Swiss Confederation. The new joint venture would be responsible for marketing and services on the route between Genève and Bellegarde in France, where new rolling is due to enter service in September 2014 after upgrading that includes conversion of electrification from 1⋅5 kV DC to 25 kV AC.
'I am delighted to see the realisation of this ambitious project which will benefit 50 000 people every day on both sides of the border', said Pepy. 'With our partner SBB, we are working to provide every passenger with a practical, comfortable and environmentally-friendly transport option'.
'Until now, we and all our partners have been concentrating on funding and infrastructure issues', said Meyer, highlighting in particular the new CEVA line connecting Genève Cornavin with Eaux-Vives and Annemasse. 'We must now refocus the RER FVG project on our customers and the service that we will offer them'.