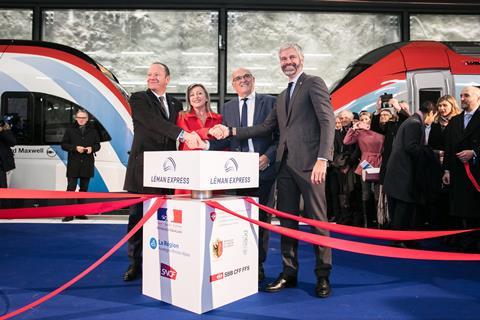 EUROPE: The Léman Express cross-border suburban network serving Genève and Annemasse began regular operation on December 16, following a formal inauguration on December 12 and a weekend of public celebrations.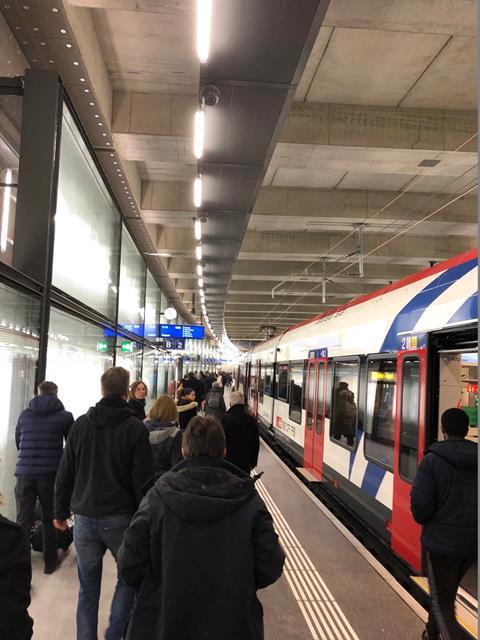 Launched in 2001 under the CEVA branding (Cornavin – Eaux-Vives –Annemasse), the project centres on the development of a 10 km cross-city rail link connecting SBB's main station with the isolated Eaux-Vives terminus of a branch line from Annemasse. Much of the 8 km on the Swiss side of the border runs in tunnel, serving five new stations, while the 2 km in France has been rebuilt in a cut-and-cover trench to reduce the environmental impact.
Total cost of the project is put at SFr1·6bn and €234m, with the Swiss Federal Office of Transport contributing €14·5m towards the works in France.
Serving 45 stations within a radius of 60 km of Genève, including the Swiss cantons of Vaud and Genève and the French départments of Ain and Haute-Savoie, the Léman Express network is operated by the Lemanis subsidiary owned jointly by SBB and SNCF.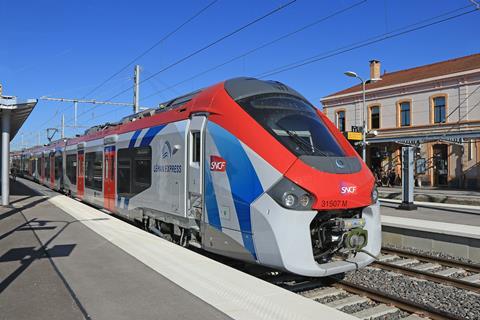 Trains operate on six routes totalling 230 route-km:
L1 Coppet – Genève-Cornavin – Annemasse – Evian-les-Bains;
L2 Coppet – Genève-Cornavin – Annemasse – La Roche-sur-Foron – Annecy;
L3 Coppet – Genève-Cornavin –- Annemasse – La Roche-sur-Foron – St Gervais-les-Bains;
L4 Coppet – Annemasse;
L5 Genève-Cornavin – La Plaine;
L6 Genève-Cornavin – Bellegarde.
In addition, SBB's Regional Express route from Vevey to Genève has been extended through to Annemasse. Routes 1-4 combine to provide a basic 10 min interval service over the new link at peak times, and half-hourly off-peak, with 240 trains/day each way crossing the border. Following the launch, no trains were operating beyond Annemasse as a result of strikes in France.
The integrated network is expected to carry around 50 000 passengers/day, with 8 000 using the cross-border link. The promoters hope that this will help to reduce the 90 000 road vehicles that cross the border each day. Both governments have agreed to subsidise the services in a bid to encourage modal shift, with kiss-and-ride facilities at the new stations and a park-and-ride interchange at Annemasse.
Three types of EMU are deployed on Léman Express services, which to operate at 15 kV 16·7 Hz in Switzerland and 25 kV 50 Hz in France, changing voltage at Annemasse. SBB has bought 23 four-car Stadler Flirts for SFr236m, while Auvergne Rhône-Alpes region has procured 17 Alstom Régiolis EMUs for €210m to operate routes L1 and L3. Double-deck Kiss EMUs are used on the Regional Express services.
December 15 also saw the commissioning of a 2·5 km extension of Genève tram route 12 from Moëllesulaz across the border into the centre of Annemasse, serving the area south of the new rail link. Built at a cost of €57m, this project has been 40% funded by the Swiss Confederation.