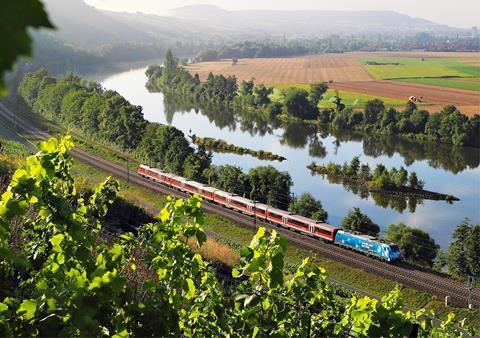 GERMANY: DB Regio will continue to operate local services in the Franken-Südthüringen region around Bamberg, Lichtenfels and Coburg, organising authority Bayerische Eisenbahngesellschaft confirmed on April 29.
Following a European tendering process, the state-owned operator has been awarded a 12-year contract running from December 2023 to December 2035. Awarded by BEG on behalf of both Bayern and Thüringen, the package covers the regional express routes from Nürnberg to Sonneberg, Saalfeld and Würzburg as well as the Bamberg – Kronach local service. An innovation will be the introduction of five daily RE connections from Nürnberg and Coburg to Erfurt via the VDE 8 high speed line which opened two years ago.
The contract requires the operation of 5·7 million train-km per year, of which around 600 000 will be in Thüringen. This represents an increase of almost 19% on the current service level. DB Regio will operate five routes:
Nürnberg – Erlangen – Bamberg – Lichtenfels – Coburg;
Lichtenfels – Kronach – Saalfeld;
Bamberg – Schweinfurt – Würzburg
Bamberg – Coburg – Sonneberg (via VDE 8);
Coburg – Erfurt (via VDE 8).
There will be a half-hourly regional express service between Nürnberg and Bamburg all day, with an hourly extension to Saalfeld calling at all stations north of Kronach. There will be a two-hourly service from Bamberg to Würzburg via Schweinfurt. The regional express from Nürnberg to Sonneberg or Erfurt will also run every 30 min, using the new line north of Bamberg; this will reduce the fastest Nürnberg – Coburg journey time to 70 min.
BEG has decided to take up the option for an RE connection to Erfurt, with five 190 km/h trains each way per day, augmenting the four ICE services which provide direct connections between Coburg and Berlin to give a roughly two-hourly service from Coburg to Erfurt.
An hourly train will maintain services to the local stations between Bamberg and Kronach, providing 'attractive' connections in Bamberg to other regional services, as well as the new IC route to Karlsruhe which DB Fernverkehr is due to launch at the end of 2023.
To meet BEG's requirement for 'modern air-conditioned' electric trains DB Regio plans to order a fleet of four- and six-car Desiro HC EMUs from Siemens Mobility, suitable for operation at up to 190 km/h on the new line; these will provide at least 600 seats in second class. Other routes will be worked by 160 km/h four-car units with around 360 seats, operating in pairs on the Nürnberg – Bamberg section to provide the necessary capacity.
To meet the latest accessibility standards, the new trains must provide step-free access at all doors, allowing passengers with restricted mobility to board and alight at platforms between 380 mm and 760 mm high without prior notice.
Bayern Transport Minister Kerstin Schreyer said she was 'very pleased that we can take advantage of the high speed line for the new regional express link between Coburg and Erfurt. This new travel option will be equally attractive for passengers in both Bayern and Thüringen'.