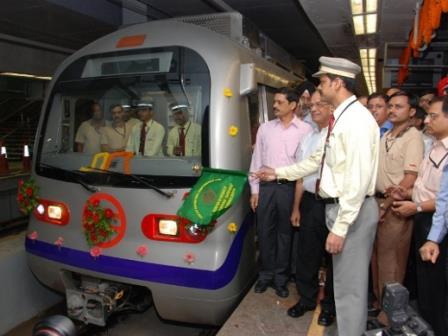 INDIA: Managing Director Dr E Sreedharan and the Directors of Delhi Metro Rail Corp celebrated the opening of Line 6 by riding the first train to make the 26 min run from Central Secretariat to Sarita Vihar on October 3. Trains were flagged off from both stations simultaneously at 08.00.

Known as the Violet line, the route entered service just hours before the inauguration ceremony for the Commonwealth Games at the Jawaharlal Nehru Stadium, which is served by the new line. Trains ran at 160 sec headways until 23.27 to cater for passengers leaving the event. Normal operating hours from October 4 are 06.00 to 23.00. Another key venue, the National Stadium, is located near Central Secretariat station, which provides an interchange to Line 2.

The 15 km standard gauge line has 13 stations, four underground and the rest elevated, and will be worked by 29 trains. The fleet will be stabled and maintained at a new depot at Sarita Vihar, but were commissioned at Mundka depot. The remaining 5 km between Sarita Vihar and Badarpur plus the last three stations are expected to open soon.

Work on Line 6 began in April 2007, giving DMRC just 41 months to complete the 20 km line. The work involved construction of a cantilever bridge with a 100 m span near Okhla and the 167·5 m long Moochland cable-stayed bridge which crosses the city's ring road at a height of 12 m.

The Delhi metro network is now 153 km long with 130 stations in operation.

However, the Delhi Airport Express Line has not been given clearance to enter service following an inspection by the Commissioner of Metro Rail Safety. The line is now expected to open later this month. DMRC has imposed a penalty of Rs112·5m on concessionaire DAMEPL, a subsidiary of Reliance Infrastructure, for late delivery as the line had been due to open by August 31.