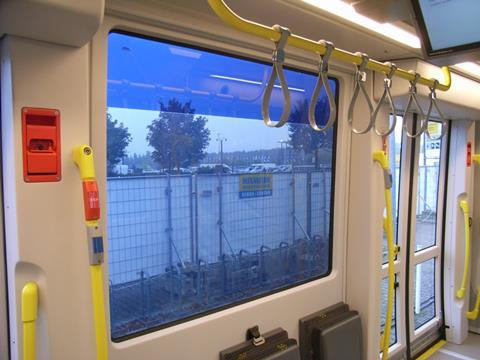 GLAZING: Vision Systems Automotive exhibited a prototype of its Nuance smart shading window on a Bombardier Flexity 2 metre-gauge tram for De Lijn, which was displayed at InnoTrans.
The electronically dimmable window uses a suspended particle film applied to the glazing. When electronically activated, this allows light through, but reverts to opacity when the power is removed. The level of transparency is adjustable manually through a central control panel or from passenger seats, or automatically through temperature or light sensors in the window. Full dimming takes less than 5 sec.
The film can block 90% of incoming heat, allowing reduced HVAC consumption, and 99·9% of ultraviolet light, which protects the interior from fading. It can also be installed on the partition wall behind the driver to prevent distracting reflection of lighting from the passenger compartment.
As there are no moving parts, the film can be applied to curved windows as well as flat surfaces.