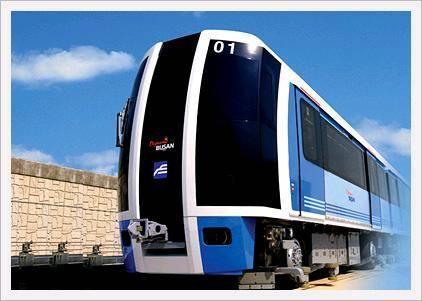 SOUTH KOREA: Busan Transportation Corp inaugurated its driverless light metro Line 4 on March 30, following 11 days of trial running between March 15 and March 25.
The 12·7 km route runs east from Minam on metro Line 3 to Anpyeong and provides an interchange to metro Line 1 at Dongnae. Of the 14 stations, the first eight between Minam and Geumsa are underground, Banyeo Agricultural Market is at grade and the remaining five from Seokdae to Anpyeong are elevated.
The automated line is worked by 17 six-car rubber-tyred vehicles supplied by Woojin Industrial Systems. The trainsets are 91·4 m long and 2 400 mm wide with capacity for 316 passengers, including 128 seated. Maximum speed is 70 km/h. Platform screen doors are fitted at each station.
Services operate between 05.00 and 01.00 at 5 min intervals during peak hours and 8 to 10 min at other times. End-to-end journey time is around 25 min.
Originally envisaged as a branch of Line 3, construction of Line 4 started in December 2003 and cost 1·25tr won. The line was due to open in 2008 but the discovery of archaeological finds delayed the schedule. Some of the artefacts are displayed in a museum at Suan station.
Busan's five-line metro network now totals 110 km with 108 stations. The 24 km 18-station Busan – Gimhae line is due to open in April while an 8 km extension of Line 1 from Sinpyeong to Dadaepo should be completed in 2013, adding another six stations.