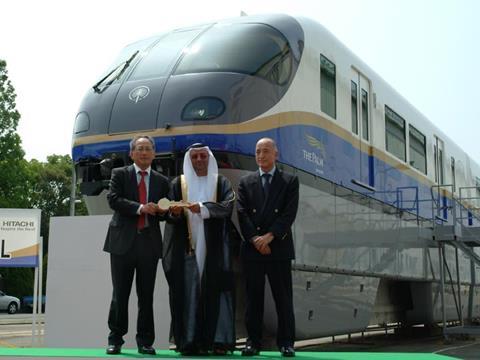 UAE: Four three-car trains for the Palm monorail in Dubai were handed over to developer Nakheel in a ceremony at Hitachi's Kasado plant in Tokuyama on August 21.
Construction of the 5·45 km straddle monorail was completed last month, and members of Nakheel's operations and maintenance team are now in Japan for training on the Osaka monorail. Six months of test running will begin in October, with the full service planned to start by April 2009.
Operations have been contracted to Singapore MRT subsidiary SMRT Engineering. The trains will be fully automatic, although an attendant will be on board at all times.
The 1·4bn dirham line runs along the 'trunk' of the Palm Jumeirah development from Gateway station to Atlantis Aquaventure. Intermediate stations will serve Trump International Hotel & Tower and the Palm Mall. The initial capacity will be 2 400 passengers/h/ direction, with a maximum future capacity of 6 000.
'The Palm monorail is not only the first system of its kind to be completed in the Middle East but is also setting global standards for the transportation industry', said Robert Lee, Nakheel Managing Director, Investment Projects. 'We have employed state-of-the-art technology to overcome a number of challenges whether that is running 1 000 m of rail over-sea, meeting Dubai's unique climatic conditions, or protecting the communities of Palm Jumeirah by utilising a virtually silent track system.'