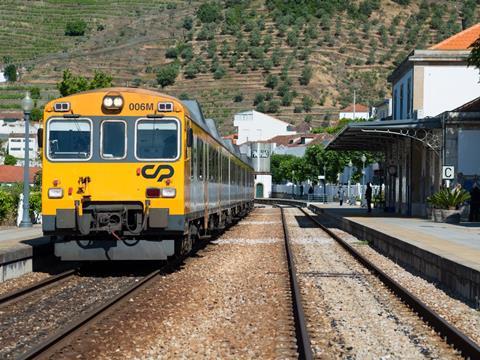 PORTUGAL: The government's Council of Ministers on September 6 gave the go-ahead for national passenger operator CP to start a rolling stock procurement process.
Intended to cover the acquisition of 22 trainsets, an international tender worth €168·2m is to be called in 2019 in accordance with EU procurement rules. The tender will cover 12 electro-diesel trainsets and 10 EMUs; all are intended for use on regional services. The trains are expected to be in service by 2026. The EU's 2021-27 structural programme and the domestic national environmental fund will be used to finance the fleet expansion.
CP has suffered from an acute shortage of rolling stock over the past few years, with diesel trains in especially short supply. This year buses have replaced trains on some routes on a daily basis, while on other corridors the operator uses ageing DMUs leased from RENFE in Spain.
Discussions are ongoing over a possible leasing agreement for inter-city EMUs between RENFE and CP. This would allow CP to resume the half-life refurbishment of its Alfa Pendular tilting trainsets and to increase capacity on inter-city services, where demand is growing strongly.
The October 2018 issue of Railway Gazette International will include a detailed analysis of the challenges facing CP.