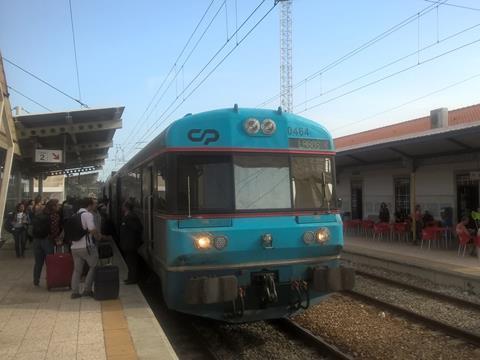 PORTUGAL: National infrastructure manager Infraestruturas de Portugal has proposed electrification at 25 kV 50 Hz of the railway along the country's south coast under the auspices of the Algarve Regional Co-ordination & Development Commission.
The €57·9m project would cover electrification of the 45 km between Tunes and Lagos, and the 56 km between Faro and Vila Real de Santa António. The section between Tunes and Faro was electrified and upgraded in 2004 and is now used by CP's premium Alfa Pendular inter-city trains which link Faro with Lisboa and Porto.
As well as electrification, the scheme would also include work to enhance the substructure of the railway, renew signalling and refurbish stations, including provision of level boarding. Electrification would allow operator CP to withdraw ageing Class 0450 diesel multiple-units and reduce journey times on the corridor.
IP expects the work to be 85% funded by the EU through the Compete 2020 programme. It is also included in the infrastructure manager's Ferrovia 2020 plan as a 'complimentary project'. IP hopes that work could begin by the end of this year for completion by the end of the decade, although this would depend on the level of environmental assessment required, IP says.
In the longer term, Faro municipality and IP have also proposed relocation of the railway from the city centre to the north, and construction of a line to Faro airport within a budget of €25m.