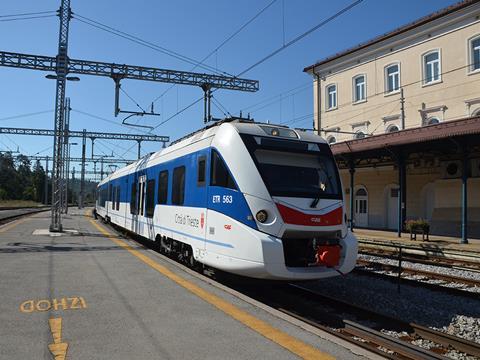 EUROPE: Through passenger services between Italy and Slovenia were reinstated on September 9, having been suspended in 2008.
The revival of the service is the result of a partnership between the Italian region of Friuli-Venezia Giulia, which owns the CAF-built ETR563 electric multiple-units deployed on the route, and national operators Trenitalia and SŽ whch provide crew in their respective countries.
There are two trains each way per day from Udine to Ljubljana, calling at Palmanova, Cervignano-Aquileia-Grado, Trieste airport, Monfalcone, Trieste Centrale, Villa Opicina, Sežana, Divača, Pivka, Postojna, Rakek, Logatec and Ljubljana Tivoli.
The rail route is circuitous, with a journey time from Ljubljana to Trieste of 2 h 42 min, compared to around 1 h 10 min by car on the 93 km motorway route or 1 h 40 min by coach. Each five-car 160 km/h EMU has a capacity of 297 passengers and 30 bicycles.
The only other surviving rail route across the Italy-Slovenia border is the freight-only connection between Gorizia and Nova Gorica.