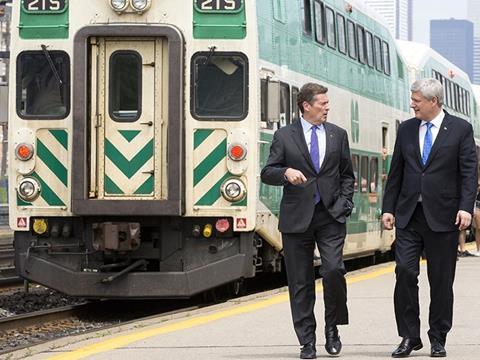 CANADA: Federal funding is to be made available for Toronto's proposed SmartTrack Regional Express Rail project, Prime Minister Stephen Harper announced on June 18, when he set out details of a Public Transit Fund which is being established to support transport infrastructure investment.
The RER is included in Mayor of Toronto John Tory's SmartTrack plan for public transport investment, and envisages using existing GO commuter rail corridors to develop all-day electrified suburban rail network. Federal funding would be subject to the submission and approval of a formal application, and would cover up to one-third of the costs of the C$8·5bn project, which is to be managed by regional transport authority Metrolinx.
Ontario's Minister of Transportation Steven Del Duca welcomed the announcement, saying the province had committed to electrify the existing GO corridors implement the RER project.
The new Public Transit Fund is intended to meet up to one-third of the cost of infrastructure projects costing more than C$1bn. Private sector finance and 'alternative funding mechanisms' must also be used. The government is to provide C$750m for the PTF fund over two years in 29017-18, and C$1bn a year in ongoing support. This would free-up funding from existing government programmes for use on non-transport or smaller projects.