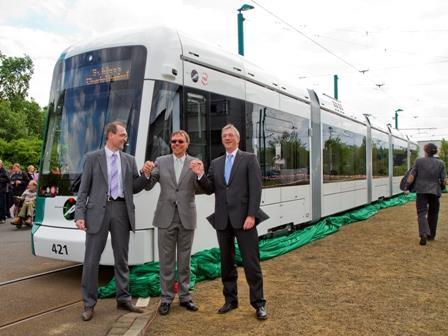 GERMANY: The first Stadler Variobahn for the Potsdam tram network was officially presented to transport operator ViP on May 13.

The vehicle will now be tested and certified prior to entering commercial service, which is provisionally set for September 17.

ViP placed a €25m order for 10 Variobahn low-floor trams in January 2009, and has a €20m option for a further eight. The order followed a cancelled contract for 45 Siemens Combino trams, only 16 of which were delivered. ViP decided to issue a new tender when Siemens faced severe structural problems with its Combino vehicles in 2004. The Variobahns will replace the Tatra KT4D trams currently in use in Potsdam.

The five-module unidirectional Variobahn is 29·6 m long and 2 300 mm wide with a floor height of 350 mm throughout. The air-conditioned stainless steel car has 57 seats and space for 118 standees plus two multi-purpose areas for pushchairs, wheelchairs and bulky items. The tram is equipped with 16 passenger information screens and a ticket machine that accepts coins, bank notes and cards. Air-conditioning and large windows increase passenger comfort.

The trams are being manufactured at the Stadler Pankow plant in Berlin.