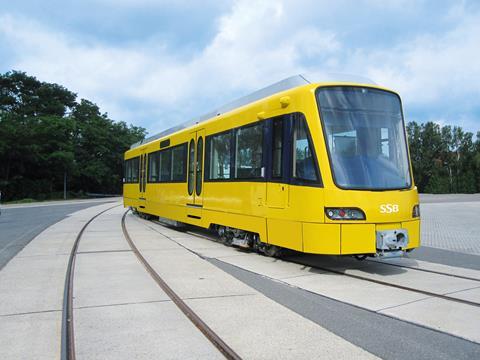 GERMANY: The first of 20 high-floor DT8.12 LRVs that Stadler Pankow is supplying to Stuttgarter Strassenbahnen was unveiled at InnoTrans on September 20. Once the manufacturer has completed testing, the cars are to be handed over to the operator for acceptance trials.
'Stuttgart has an interesting, demanding topography from the perspective of a rail vehicle manufacturer — steep gradients and a historic old town mean the trams have to meet exacting technical requirements', said Stadler Pankow Director Michael Daum. 'We are pleased that we have been able to successfully work together with our customers to address this'.
Based on the Tango design, the DT8.12 is 39⋅2 m long. Due to its 'comfortable' width of 2⋅65 m it has 'a generous, friendly interior', according to Stadler, seating 106 passengers with standing room for a further 146. Maximum speed of the 1 435 mm gauge vehicles is 80 km/h.