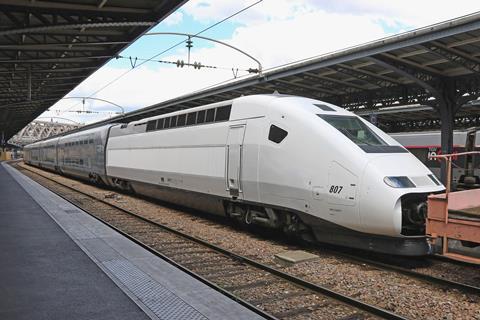 SPAIN: The first of nine double-deck TGV Duplex trainsets being modified for use by SNCF's Spanish subsidiary Rielsfera was despatched from the Technicentre Est-Européen at Pantin in France on June 6 following the installation of signalling and train protection equipment needed for operation in Spain.
Having been awarded a package of open access paths on the Spanish high speed network as part of a liberalisation process, Rielsfera expects to launch its first low cost high speed domestic services from the December 14 timetable change. The trains will operated under the Falbala brand, which is based on the Ouigo concept being rolled out in France.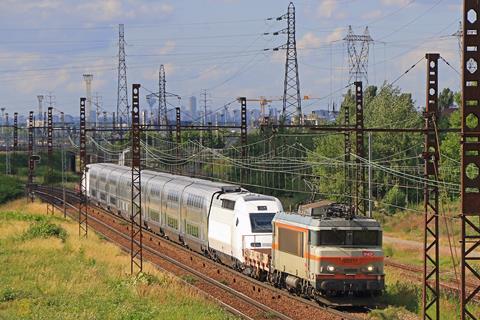 An initial fleet of nine trainsets will be required to operate the Package C bundle of paths for five trains each way per day on the route connecting Madrid to Zaragoza, Barcelona and the French border in the north, and four each way on the routes to Albacete, Valencia and Alacant in the east and to Toledo, Sevilla and Málaga in the south.
As part of an investment estimated at €700m, SNCF group is modifying some of its 800-series TGV 2N2 Euroduplex 3UH trainsets for use by Rielsfera. These are being fitted with the Spanish ASFA automatic train protection system as well as ETCS and the German LZB system still used on the Sevilla route pending its replacement by ETCS to improve interoperability. Some equipment only required for use in France was removed at Alstom's Belfort plant before the trains were diesel-hauled to Pantin.
Having been delivered to Technicentre Est-Européen in February, the first modified set, no 807, was dispatched to Perpignan on June 6, en route to the Spanish border. Following test running in Spain, the trains are expected be repainted in the Falbala livery ahead of the launch in December.