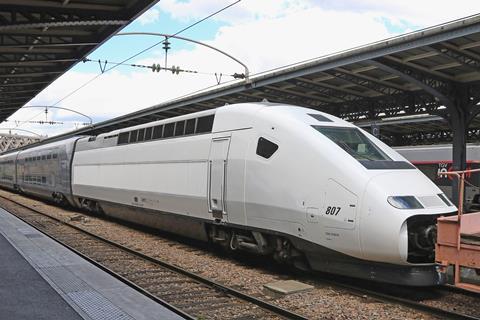 SPAIN: SNCF subsidiary Rielsfera has revealed further details of its planned Falbalá low-cost high speed services, following its submission of train path requests to ADIF Alta Velocidad.
The first group of services to be introduced will link Madrid with Zaragoza, Lleida and Barcelona, with an initial five trains each way per day.
Although in theory the service could launch on December 14 2020, delays caused by Covid-19 have caused a postponement of the start date until around Easter 2021.
No timescale has been set for the start of services between Madrid, Málaga and Sevilla, as this is dependent on either ADIF Alta Velocidad finishing the installation of ETCS Level 2 between Madrid and Sevilla, or LZB being installed on Rielsfera's TGV Euroduplex trainsets and authorised for use.
Services from Madrid to Cuenca, Albacete, València and Alacante are now expected to start in 2022, with Rielsfera citing 'problems of incompatibility with the infrastructure', which it is addressing with ADIF Alta Velocidad.