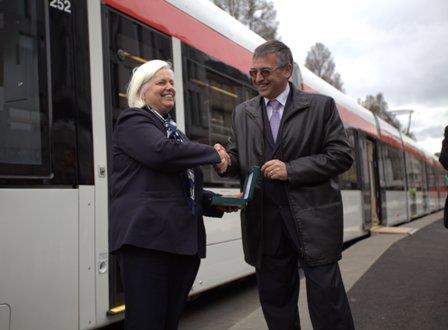 UK: On April 27 City of Edinburgh Council Leader Jenny Dawe received a key to the first of 27 low-floor CAF trams that will eventually work the light rail network being developed in the Scottish capital.

The seven-module bi-directional tram was transported by road across Europe to Edinburgh in three sections, following completion of trial running at the Wildenrath test track in Germany. It is now on public display in Princes Street.

The vehicle is 42·8 m long and 2 650 mm wide, with 78 seats and space for 255 standees. Six luggage racks are fitted as Edinburgh's first light rail route will serve the airport as well as the city's two principal railway stations. The stainless steel carbody rides on three motor bogies and one trailer bogie. Total weight is 56 tonnes and maximum speed is 70 km/h.

The 18·5 km route from Edinburgh Airport to Newhaven, with 22 stops, is due to enter service in 2012.
'I have been looking forward to seeing the first tram in the city', said Dawe. 'This will stand as a real and tangible milestone for both the project and citizens of Edinburgh'.