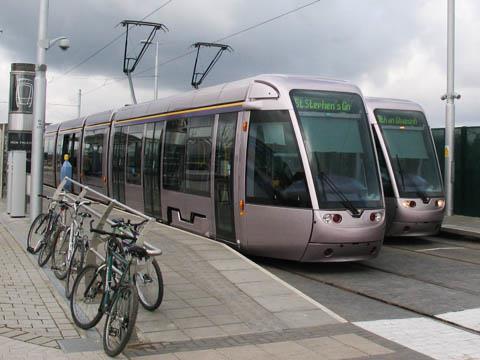 IRELAND: The Railway Procurement Agency received four tenders on February 27 for the PPP contract to build and maintain the 18 km Metro North light rail line from St Stephen's Green in central Dublin to the airport, Swords and Belinstown.
The bids reflect a substantial decrease in construction costs, which are estimated to have fallen 20% since the project was originally launched in 2004, when the cost of building the line was estimated at €4·6bn. The four bidders are:
Cathró: Fluor Ireland, BAM, Siemens, Strabag and Veolia;
Celtic Metro Group: Barclays Private Equity, Obrascon Huarte Lain, Mitsui, Soares da Costa, Iridium Concesiones de Infraestructuras SA , CAF and MTR Corp;
Dublin Express Link: HSBC Infrastructure Management Fund, Meridiam Infrastructure Finance, Acciona, Bouygues, SIAC, Alstom and Keolis;
MetroExpress: Macquarie Capital, Global Via Infrastructuras, Allied Irish Bank, Bombardier and Trasdev.
RPA intends to shortlist two bidders in mid-2009, and then sign the design, built, finance and maintain contract during 2010. The maintenance section of the contract will run for 25 years from the start of services.
The standard gauge line will be electrified with 750 V DC overhead, and will have 17 stations. It will be interoperable with the existing Luas tram lines, but will have longer vehicles and full route segregation, running in tunnel from St Stephens's Green to Northwood and under the airport.
Oral hearings as part of the planning approval process are underway, but issues surrounding two major interchanges with Iarnród Éireann have yet to be resolved. These involve the interface at St Stephen's Green with the DART station on the planned cross-city Interconnector rail tunnel, and the Drumcondra interchange with inter-city and suburban rail services in the northern suburbs.
Buro Happold and Explorations Architecture won a contract administered by the Royal Institute of the Architects of Ireland to design the Liffey Valley bridge for Metro West, a planned orbital line between the airport and Tallaght.