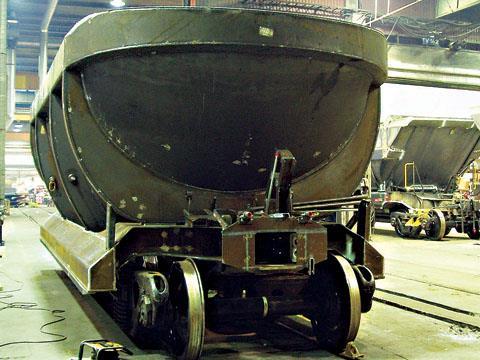 SWEDEN: Northland Resources has ordered a fleet of custom-designed wagons for its Kaunisvaara iron ore development which will use a 'basket turning' body to achieve a 98 tonne payload within a 30 tonne axleload limit, and has placed contracts for the transport of magnetite concentrate to the port of Narvik.
On April 12 a contract was signed for Kiruna Wagon to supply 150 wagons in permanently-coupled pairs between January 1 2013 and May 5 2014, with options for up to 92 more.
These will use high-strength steel and a 'basket turning' body to stay within the 30 tonne axleload limit on the Malmbanan railway, which will be shared with LKAB's heavy haul trains.
The pelletised concentrate to be produced by Northland will consist of fine particles unsuitable for bottom-discharge hoppers, and Kiruna Wagon will supply a new design of wagon based on its proprietary C-turner technology.
The wagon body will rotate 148 to dump the load, meaning the bogies can remain standing on conventional track and avoiding the complexity of a rotary dumper and cost and weight of rotating couplings.
Kiruna Wagon says that while the unloading facilities are more expensive than alternative methods, this will be more than compensated for by the lower cost of the wagons.
Northland Resources has also awarded contracts to transport the ore from the start of production in 2013 until 2021. Peab will move the ore 150 km by road from Kaunisvaara to Pitkäjärvi. Lorries will initially carry 60 tonnes, but authorisation for 90 tonnes is anticipated. Savage Services will be responsible for rail transportation over the 226 km from Pitkäjärvi to Narvik, and Green Cargo has been awarded a five-year haulage agreement worth US$120m.
Traffic is expected to grow from 1·3 million tonnes in 2013 to more than 4 million tonnes by 2015, carried on four trains a day.